Villa Layout
Enter via a high gate into the villa's landscaped equatorial gardens stepping up to the ocean-front balé and pool. Climb the wonderfully angular staircase in the main pavilion to the lounge and dining rooms, and be lulled by the languid seascape. Two master bedrooms crown this building and have front row seats for the sunset show, with brilliant views to the horizon.
A second pavilion, overlooking the tennis court and with more spectacular sea views from its upper floor, houses the entertainment room plus three identical guest bedrooms with canopied beds, sculptured terrazzo bathrooms and gardens with fish-filled lotus ponds. In a separate single-storey building is a sumptuous spa room and the gym, which can easily and ingeniously be transformed into an extra bedroom.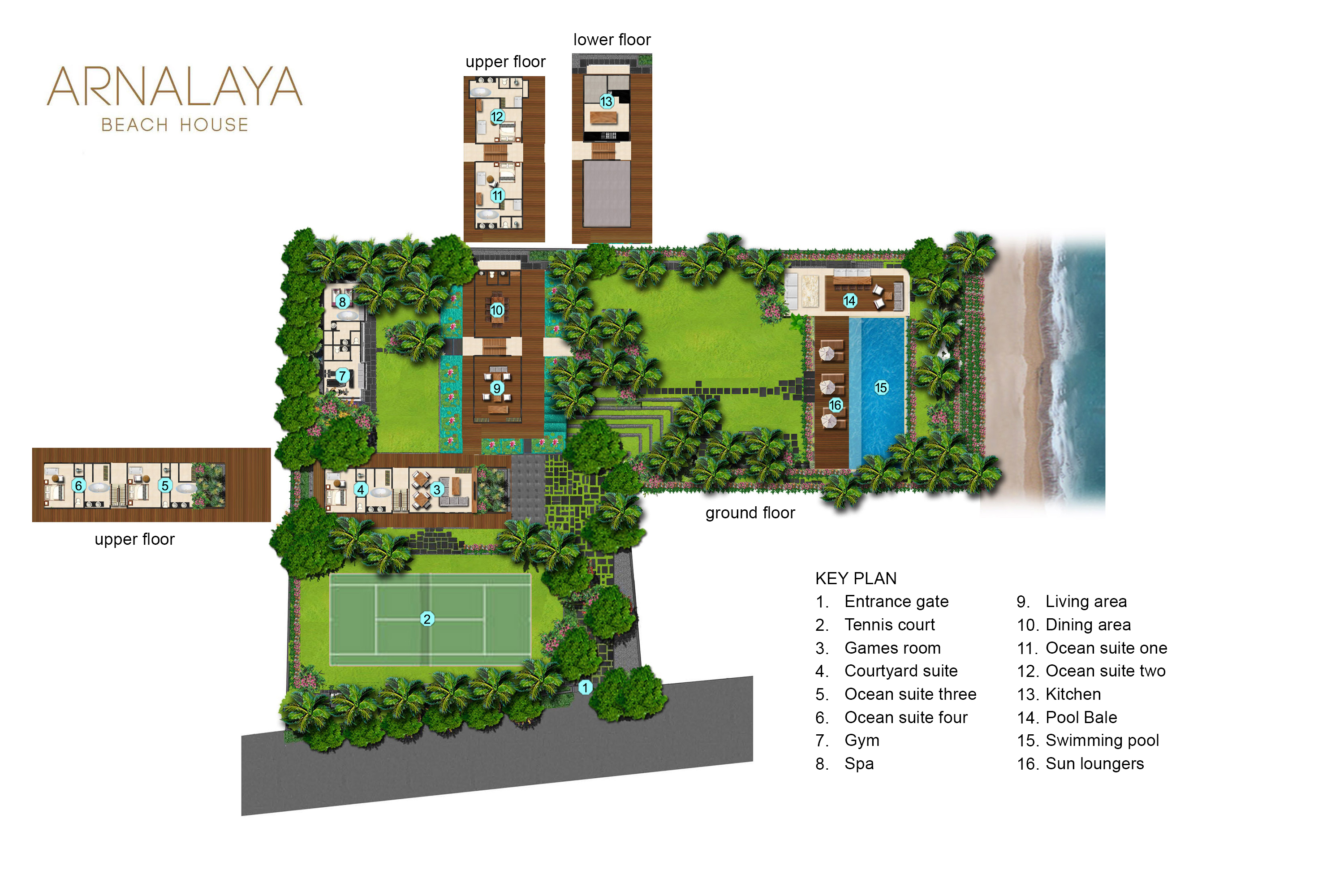 Download in high resolution
Bedrooms
Arnalaya Beach House has five ensuite bedrooms enveloped in air-conditioned comfort.  By virtue of their coveted views, the two Ocean suites in the main pavilion might be considered masters, but all five rooms are of a similar size and have flexibly queen-size beds that can split into Hollywood twin beds, making the villa ideal for fair sharing.
For larger groups, the gym can be converted to a sixth bedroom with two pull-down beds plus two extra portable beds.

Ocean suites
Two mirror-image bedrooms lie at the top of the main building, with their own terraces and a refreshingly simple design. Wardrobes are walk-in and the bathtub is stand-alone and set in front of huge windows that maximise the views. The beds create a canopied boudoir. Music wafts from Bose ceiling speakers and the TV is neatly concealed behind sleek fitted units. A comfortable sitting area is furnished with a custom-made sofa and desk and every outlook is enhanced by the seductive seascape.
A second pair of Ocean Suites, beautiful in their balance and simplicity, occupy the upper floor of the adjacent two-storey building. Softly muted colours and canopied four-poster beds create a soothing space, and the neat lines of custom-designed units conceal hanging space, luggage storage, TV and sound system. A desk and lounge area underscores an apartment-like appeal. The open terrazzo bathrooms have softly curved walls and freestanding oval tubs as well as spacious shower stalls.
Courtyard suite
Spilling out onto the green lawn, lotus ponds and family temple, this suite is tucked into a pretty garden and offers direct access to the gym and spa.  Although similar to the bedrooms above in most respects, this room also has a pull-down single bed in place of a desk making it ideal for families with a toddler, or for three older kids to share.


The
lounge and dining room
on the second floor of the main building have windows that seem to magically disappear and morph the space into avant-garde outdoor living with terraces facing seaward and over the courtyard. Plush white sofas face one another, handcrafted tribal tables and skeletal bamboo chairs are scattered about, and a wall is hung with an antique batik print. The air-conditioned formal dining room seats up to 14 people at a bespoke solid teak table, and split bamboo wall panels give the space a casual vibe. Side tables are adorned with clusters of fresh white orchids, an exquisite trio of antique hair combs and mood-creating candle-lit hurricane lamps.
On the ground floor of the second pavilion, you will find a sensational retreat for kids of all ages. As the only room with Apple TV – loaded with Netflix, HBO, ABC, PBS KIDS and more – the entertainment room is a popular haunt with its big versatile modular sofa and sets of café-style tables and chairs. The sound system is loaded with an excellent music library, there's a Nintendo Wii, and the bookshelves carry abundant reading material for kids and adults. This is a perfect place to wind down in the cool while watching a movie or viewing a tennis match through the wall-to-wall windows that face the court.
While the gym has a treadmill and assorted workout equipment, it's also fitted with two single beds that pull down from the wall and an ensuite shower overlooking a koi carp pond, as well as huge fold back windows over the courtyard.
Facing the ocean and flanked by the shimmering swimming pool, timber decking and gardens, the pool lounge and dining balé is furnished with a long and solid timber table for 14, hand-rendered rattan chairs and polished concrete banquette seating littered with comfy cushions. This breezy space has its own fully functional kitchen with a built-in barbecue, induction cooker and cocktail bar.